IDrive Review
Executive Summary:
What's good? Lowest price – $49.95/year for unlimited, iPhone app

What's bad? Separate license required for each computer

Recommendation? Outstanding value – highly recommended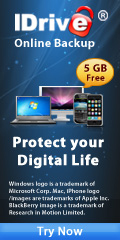 In-depth IDrive Review…
IDrive Review: What do IDrive products do?
IDrive is software for online backup of your files, pictures, and emails.  They are one of the older companies supplying online backup – since 1995.  Mozy and Carbonite for example, have been in business since 2005 and 2006 respectively.
IDrive is a service of Pro Softnet Corporation, an ASP and Internet Solutions Provider based in Calabasas, CA.
This is the info on your internal hard drive they will automatically back up:
Documents
Photos
Emails
Settings
Music
IDrive Review:  How much does it cost?
IDrive Pro for Personal Use
| | | |
| --- | --- | --- |
| Storage Space | Monthly Rate | Yearly Rate |
| 150 GB* | USD 4.95 | USD 49.50 |
The basic package is $4.95/month for 150 GB of data storage.   The best plan though is unlimited. Mozy and Carboniteoffer similar plans.  With those services you theoretically get unlimited data backup for the same price.
Marketing-wise, by the GB pricing doesn't play as nicely to our American all-you-can-eat sensibilities but 150 GB of data storage is a boatload.   Also, you can backup external hard drives with IDrive – Mozy and Carbonite will only let you backup your computer's internal hard drive.
Arguably, by the GB is also a better way to charge for online backup because there's no incentive for IDrive to discard your previous versions of files.  (The #1 reason for folks restoring files is accidental deletion, btw, so this feature may well come in handy in that you don't have to worry about the service deleting a file copy you may want later.)
Also, IDrive "Lite" offers 5 GB free as an incentive to get started.
IDrive Review:  Is it safe?  What kind of data encryption do they use?
Encrypting your data protects it from prying eyes by turning it into "ones and zeroes" for transportation over the internet and eventual storage.
IDrive uses 128-bit SSL encryption from the time your data leaves your computer and then a different type of encryption is used when it is actually stored on the online backup server.  Basically, all online backup companies are doing approximately this now, though.  Your data is well protected with all major online backup services, but there's no differentiator with encryption.
IDrive recommends that you choose your own encryption key.  We think that is a huge mistake, since if you lose it, there is no way for anyone to unlock your data and you are toast.  It is simply not worth the risk, except in classified situations.
IDrive Review:  How are they different than the others out there and is it a better value for your money than other similar services?
IDrive  lets you pay monthly, as you go – outstanding in that they have to sing for their supper or you will go elsewhere.
IDrive Review: How long will they store my files?
This is another IDrive's strength…from their website; "No data is deleted from your IDrive online account until you manually delete or run sync to match your desktop data to your account."
Therefore, if you accidentally delete a file, you can go back in time and pick a previous version – they keep the last 30 versions you created. You don't have to worry that the file might not be there because the time limit on keeping versions of files has occurred, like with Mozy or Carbonite.
Of course, IDrive and all online backup companies will drop you like yesterday's cigarette butt if you stop paying them.
IDrive Review: How easy is it to set up and use?
It is easy to get started with IDrive, just like all of the popular online backup providers. Just download the agent software and the backup proceeds (slowly), but smoothly from there.
Although, I found changing account settings took a little work – there is a little learning curve with that.
Restoring records is easy, too. Their agent software lets you see all the files you have stored and you can click the restore function to download that version back to your hard drive, or you can just backup everything with one click.
One caveat: Whether you choose IDrive or another company, online backups over broadband take a loooong time!  My initial one took weeks to complete for about 22 GB.  But, that is an upload limitation imposed by internet service providers, not online backup services.
The good thing is, if you set it up on automatic, the agent software quietly runs constantly in the background, doing its backup work.  The bad thing is, the time to get the initial backup done can be frustrating if you aren't expecting it.
Unfortunately, IDrive, nor any of the other online backup service providers we have reviewed do a very good job of letting customers know what to expect, unless you dig deeply into their FAQs.
The best way to get backed up fast initially is to leave your computer on overnight, so the backup can be done without having to compete with the work you do during the day.
IDrive Review: Does IDrive have a version for Mac?
Yes.  IDrive Mac is new but comments have been very positive.
IDrive Review: How's IDrive's customer service?
Customer service versatility is not a huge strength at IDrive.  They will interact with you over live chat, or you can choose to handle any issues via email – no phone support.
IDrive Review Summary:
Outstanding value and mobile apps – easy to use and highly recommended.